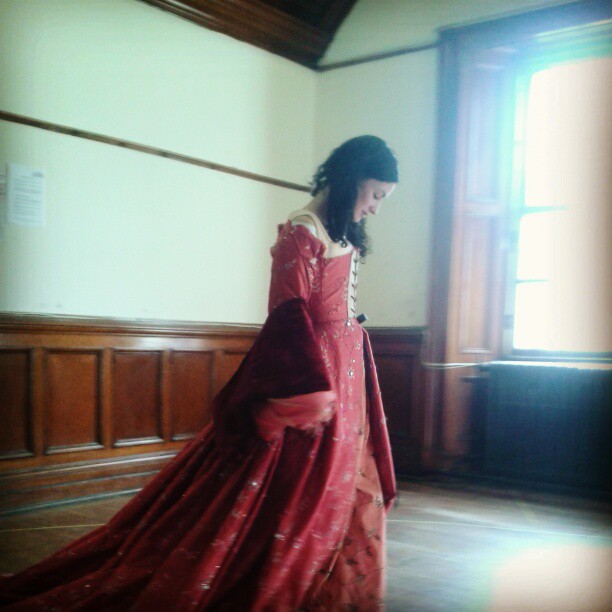 In the morning, we looked at lines 1200-1287 – Chastity's entrance.  Much of this action will make use of the 'field', both Diligence and Chastity are very mobile in this area during this section.  Indeed Diligence's command of the whole domain of the round is noteworthy, as the research team had predicted.  The fact that the Three Estates can be found in the acting space throughout Part One also became clearer , which says something important about the kind of political universe that Lyndsay dramatizes and how integrated it is. At some point Temporality and the Merchants will need to be secreted in our VIP area.
In the afternoon, we looked at the stocking of Chastity and it was particularly interesting to see the opposition between Chastity and Sensualitie played out in dramatic space.  Today was also a day of costume fitting – above is Sensualitie trying out her wonderful costume.
At the end of the day, we looked at the section where Chastity is welcomed by the craftsmen, only to be chased away by their wives (ll 1287-1395) – a comic turn but with the serious point that Chastity may be found among Scotland's lower orders, if not its elite.  Verity's argument that subjects will follow the example set by their king shows that Sensualitie has not yet had the trickle-down effect she predicts.   Once again Lyndsay's egalitarianism is demonstrated by the fact that the ability to recognise the beauty and virtue of Scotland is given to the Scottish working class…though not of course their 'wickit wives'.
We also had the amazing realization that we will be opening the play on the same day as the play was performed in 1552 – June 7th.  It must be serendipity.