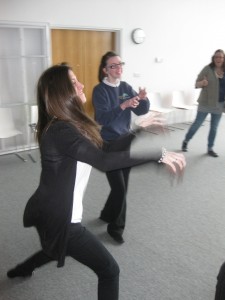 We are offering FE College Theatre Departments FREE workshops in working with A Satire of Three Estates and its importance to Scottish Theatre from January to February 2014.
Two of your staff will be invited to a free CPD session at Linlithgow Palace on how to use the resources developed. Dates for the CPD opportunity are 7th and 10th March 2014
A professional Theatre Director and a professional Actor will come to YOUR college and work with 1st year students for two days in January/February 2014.
They will:
Workshop the dramatic time of the play, to break down its themes and contextualize its significance to Scottish Theatre during 1500's ( Theatre History)
Use improvisational techniques and physical comedy to explore the clues Lyndsey gives us in terms of performance choice and the allegorical characters listed ( Physical Performance Techniques).
Give the students confidence in speaking Old Scots (Voice and Dialect work)
Workshop and rehearse key speeches from the play with the students ( Acting and Performance)
There will also be an opportunity for the students to explore alternative staging choices i.e site specific staging, promenade, in-the-round and traverse staging.
We will also invite students to perform at out international conference on the play in June 2014.
If you wish to book this programme then please complete the